Testimonials from Real Arvixe Drupal Users:
Customer Testimonials
This is more a test-bed for me than a live hosting account, but given my experience thus far I'm qui...
Joseph
threewheel...
07/22/2013





When I get in touch with Arvixe, the best thing I liked was appropriate live chat support. But then ...
Gaurav
boloindia.net
04/26/2013





I got Arvixe hosting to test and work on personal ASP.NET projects. So far I have yet to find someth...
Mathew
www.arvixe.com
04/24/2013





I worked with a graphic design student who was building my site as an artist for his class project. ...
Viktoria
viktoriaford.com
04/28/2014





Thanks to Arvixe I can build and host mobile application and windows applications. As I have a VPS ...
Steven
dualzdesigns.com
05/17/2013





Don't Take Our Word Our Drupal Hosting is the Best:

84%





4.75 / 5
Rated by 37 customers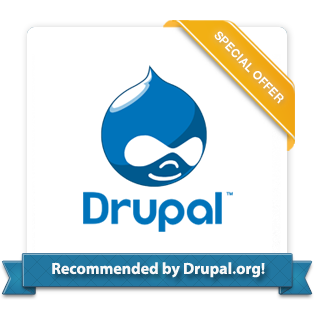 Drupal

Web Hosting

Drupal is a very popular open source content management system that powers millions of website on the web. Arvixe is a Drupal Supporting Partner bringing you the high quality and reliable hosting you need to run your Drupal website. Our hosting environment is specifically configured to run Drupal at the highest level. Sign up for our Drupal Hosting today!

Here is why you should pick Arvixe for your Drupal Hosting:
Flexible hosting to grow with your Drupal website - Shared, VPS, Dedicated and Cloud Hosting available
Security and Performance Specifically for Drupal - Keep hackers and spammers away!
24/7 US based Managed Drupal Hosting Support - Techs that understand not only hosting, but Drupal as well!
Testimonials from Real Arvixe Drupal Users:
Customer Testimonials
Thanks for the great service and uptime!
Sean
gooejuice.com
06/14/2014





I have recommended arvixe hosting to many of my customers. And so far they are all happy with arvixe...
Sundar
www.arvixe.com
05/17/2014





Without a doubt, the best host on the 'net. I am impressed with the rapid responses, knowledge of te...
Victoria
pmactree.com
07/03/2014





¡You are so cool!
Alejandro
qualyserv.com.co
07/17/2014





I had a lot of questions and problems when starting up my website since I'm not tech savvy at all. B...
Catalin
peacefuley...
07/02/2013