Testimonials from Real Arvixe Drupal Users:
Customer Testimonials
best host i ever had (and i tryed many hosts)
lior
enderpex.com
02/11/2014





Got all my bases covered by having my own personal web designer. your letter to me, Arvand, made me ...
Jerry
papajsartgarage.com
07/03/2014





Arvixe offers an excellent services and software and has a great customer service. I highly recommen...
Paolo
francyandpaul.com
08/27/2013





I am using the reseller package. It's been nearly 5 months and I must say, server response time, cus...
Monirus
hostingfs.com
03/04/2014





Actually, Arvixe was my first hosting company. When I compared with my friend's hosting company, who...
Kingsley
nepamsonline.com
01/21/2014





Don't Take Our Word Our Drupal Hosting is the Best:

84%





4.75 / 5
Rated by 37 customers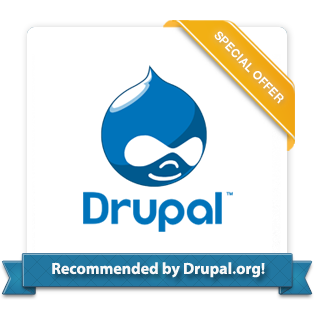 Drupal

Web Hosting

Drupal is a very popular open source content management system that powers millions of website on the web. Arvixe is a Drupal Supporting Partner bringing you the high quality and reliable hosting you need to run your Drupal website. Our hosting environment is specifically configured to run Drupal at the highest level. Sign up for our Drupal Hosting today!

Here is why you should pick Arvixe for your Drupal Hosting:
Flexible hosting to grow with your Drupal website - Shared, VPS, Dedicated and Cloud Hosting available
Security and Performance Specifically for Drupal - Keep hackers and spammers away!
24/7 US based Managed Drupal Hosting Support - Techs that understand not only hosting, but Drupal as well!
Testimonials from Real Arvixe Drupal Users:
Customer Testimonials
I have used many hosting companies over the last 8 years for my e-commerce site. I have found arvixe...
John
www.arvixe.com
01/22/2014





Arvixe's technical support personnel are very confident and knowledgeable about their products and s...
Marlon
bmtt.org
10/13/2013





Excellent support and services. Have tried any hosting services so far, but Arvixe is the best of it...
Arjuno
www.arvixe.com
05/01/2014





It's a real satisfactory experience hosting with Arvixe. Before, I have problemm with some script, b...
Ernest
ptcpage.com
12/22/2013





I have had nothing but good service. The price is great for hosting a personal site.
Jeremy
kakkoiitra...
05/18/2013