Testimonials from Real Arvixe Drupal Users:
Customer Testimonials
I like the fact that your support team has the ability to just get things done. All calls ar address...
Biren
asluniforms.com
06/24/2013





I have been with Arvixe for several years now and recommend it to anyone looking for optimal uptime ...
Tina
gloriousinsanity.net
10/25/2013





Arvixe Hosting gives me the best of both worlds; a great facility and excellent service. I took a ch...
Amod
www.arvixe.com
06/29/2013





I cannot tell you how much I have actually enjoyed moving 99% of my hosting to you guys. The stabil...
Michael
mpystudio.com
03/04/2014





I have been very pleased with my experience thus far with Arvixe. Making and hosting my wedding webs...
Logan
logan-scavo.com
10/31/2013





Don't Take Our Word Our Drupal Hosting is the Best:

84%





4.75 / 5
Rated by 37 customers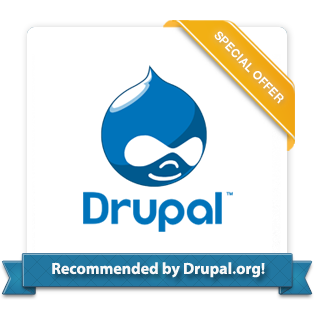 Drupal Hosting

FAQ What Is Drupal?

Drupal is one of the larger open source website content management frameworks. With an active community, Drupal is a good choice when building a website needing a CMS.

What are the advantages of Drupal?

There are a few things that make Drupal a good website content management system:
Active Community - Ensures you can get help for common problems
Powerful Framework - Drupal has been around since 2001 and runs some large websites on the internet
Flexibility - Whether you need a basic website, a store or an ecommerce store, Drupal has the modules to help you expand easily
Drupal vs. WordPress, which is better?
There is no right answer to that question. Both Drupal and WordPress are widely supported and used content management systems that have the flexibility to build almost any kind of website. Arvixe also offers
WordPress hosting
.
Testimonials from Real Arvixe Drupal Users:
Customer Testimonials
You support is REALLY good. Every problem I have had has been either solved or explained thoroughly....
Michael
totelcomne...
09/03/2013





Your services are excellent. Sometimes it is a little slow to have a solution for any issue, but in ...
Diego Ivan
www.arvixe.com
08/07/2013





I've been with Arvixe now for quite a long time (several years), and your service has been flawless ...
Mike
singularit...
04/09/2014





Absolutely love the service, no complaints. Great!!!
Daniel
bgtracker.org
10/21/2013





Optimum server with low price, highly recommend.
Maycon
www.arvixe.com
08/22/2013