Testimonials from Real Arvixe Drupal Users:
Customer Testimonials
I am just a single woman operating a wordpress e-commerce site on Arvixe for more than 4 years.I hav...
Sujira
mindandwork.com
05/15/2013





I have used other hosting services in the past and it was always a hassle to do just about anything....
Rick
glimmerznmore.com
08/13/2013





You've given me great support thank you!
Walter
www.arvixe.com
08/23/2013





I have building and promoting websites for about 7 years and tried many different hosting services o...
David
pinworlds.com
11/19/2013





Arvixe is awesome! For the price and what you get, there is none better.
Brent
amplifyvoi...
06/29/2013





Don't Take Our Word Our Drupal Hosting is the Best:

84%





4.75 / 5
Rated by 37 customers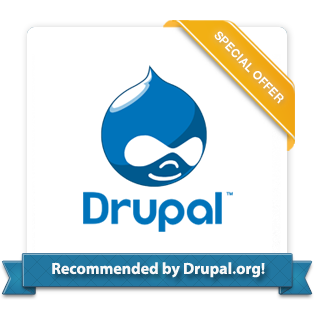 Drupal Hosting

FAQ What Is Drupal?

Drupal is one of the larger open source website content management frameworks. With an active community, Drupal is a good choice when building a website needing a CMS.

What are the advantages of Drupal?

There are a few things that make Drupal a good website content management system:
Active Community - Ensures you can get help for common problems
Powerful Framework - Drupal has been around since 2001 and runs some large websites on the internet
Flexibility - Whether you need a basic website, a store or an ecommerce store, Drupal has the modules to help you expand easily
Drupal vs. WordPress, which is better?
There is no right answer to that question. Both Drupal and WordPress are widely supported and used content management systems that have the flexibility to build almost any kind of website. Arvixe also offers
WordPress hosting
.
Testimonials from Real Arvixe Drupal Users:
Customer Testimonials
I was introduced by sister (www.sofess.com) who has been with you since 2009. We will upgrade our pl...
Sharifah Nur Farahin
www.arvixe.com
04/24/2013





I like the fact that your support team has the ability to just get things done. All calls ar address...
Biren
asluniforms.com
06/24/2013





Arvixe has been a blessing for me personally considering I never put a website together before you g...
Ricardo
1980something.com
06/29/2013





I'm tremendously happy with Arvixe. I stumbled upon it because I received a free year's hosting when...
Abhishek
dilithium.us
04/30/2014





Arvixe have to be one of the easiest hosts to use, and the price for hosting is pretty darn cheap. H...
Bruce
www.arvixe.com
11/07/2013