Testimonials from Real Arvixe Drupal Users:
Customer Testimonials
The service is just awsome!
Michel
mawa3ez.com
10/31/2014





My favorite part about your service is my option to use bitcoin as payment. I am a huge fanatic of i...
Billy
atemiryukarate.com
06/16/2014





I have used Arvixe many times and always found the hosting to be reliable and affordable. My audienc...
Nicholas
aethericgames.com
05/16/2014





I found Arvixe very user friendly domain providers. I am a UI Developer and I know what the User Exp...
Bhaumik
empmanager...
09/28/2014





We've tried seveeral other hosting companies but found that Arvixe's overall package is far superior...
Ian
toners4u.co.uk
06/20/2013





Don't Take Our Word Our Drupal Hosting is the Best:

84%





4.75 / 5
Rated by 37 customers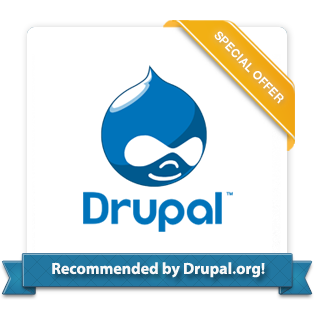 Drupal Hosting

FAQ What Is Drupal?

Drupal is one of the larger open source website content management frameworks. With an active community, Drupal is a good choice when building a website needing a CMS.

What are the advantages of Drupal?

There are a few things that make Drupal a good website content management system:
Active Community - Ensures you can get help for common problems
Powerful Framework - Drupal has been around since 2001 and runs some large websites on the internet
Flexibility - Whether you need a basic website, a store or an ecommerce store, Drupal has the modules to help you expand easily
Drupal vs. WordPress, which is better?
There is no right answer to that question. Both Drupal and WordPress are widely supported and used content management systems that have the flexibility to build almost any kind of website. Arvixe also offers
WordPress hosting
.
Testimonials from Real Arvixe Drupal Users:
Customer Testimonials
Arvixe is excellent. The customer support is quick and efficient. They know their stuff -- They know...
Cidney
pegasusaerial.com
03/25/2014





Great pricing and trusted support! I have never had issues with Arvixe in the past few years.Great ...
Pradeep
www.arvixe.com
04/15/2013





Since I moved my service to Arvixe I've received the best service and customer service, and value....
Patrick
customerdomain.com
04/07/2014





I am happy with your shared hosting. Your technical team is very good is solving issues...thank you...
Satheesh
www.arvixe.com
09/07/2013





Arvixe has gone far beyond what I expected from any web host. Simple interface, fast connection, and...
Matt
www.arvixe.com
11/28/2014