Testimonials from Real Arvixe Ghost Users:
Customer Testimonials
I was with Crazy Domains but they have very poor customer support. I had some initial issues with m...
John
www.arvixe.com
01/03/2014





I had used few web hosting providers before but since I am with Arvixe, I do not want to waste my ti...
Dien
stretchya.com
01/08/2014





Arvixe has been a great value for the money since I brought my websites over in 2010. They keep up w...
Dmytro
www.arvixe.com
09/09/2013





The SQL Server are excellent resources offered at a competitive price.
Walter
pecanoweb.com
09/28/2014





One reason why i love arvixe is that, they help make my job as a web developer easy. They make every...
Prince
jobmating.com
11/18/2014





Don't Take Our Word Our Ghost Hosting is the Best:

84%





4.75 / 5
Rated by 37 customers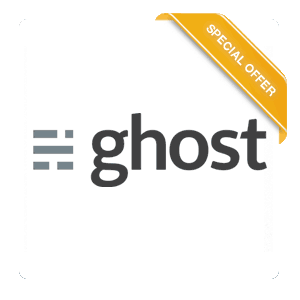 Ghost Hosting
Ghost is a blogging platform created to be the pinnacle in efficiency while having a high degree of customization. This makes it the perfect software to use for blogs of both personal and professional natures, which means that its use goes even further than those of many other archaic types of blogging platforms.
The most attractive feature of Ghost is that it includes a Ghost Developer Kit. This allows you and other people to create extensions of Ghost, which in turn allows for two Ghost blogs to look and feel as different as two individuals do.
At Arvixe, we work hard to ensure that our customers have the best hosting possible. That's why we've taken the time to tweak our Ghost hosting services so that they're reliable and efficient without missing out on the features that you need for Ghost.
Our Ghost web hosting services offer the following features:
Unlimited storage space for all your files, photos and images.
Unlimited bandwidth for all your hosting needs, which means that you no longer have to worry about running out of transfer space when your Ghost blog becomes popular.
A hosting service configured to work efficiently and reliably with Ghost right from the start.
Testimonials from Real Arvixe Ghost Users:
Customer Testimonials
I've been with avixe for nearly a decade. They have always been fantastc. All the way back to whe...
james
irodemine.com
03/27/2014





You guys are doing a phenomenal job! I have experienced with Godaddy, Hostgator, Lunarpages, and Hos...
Garrett
localsite.biz
01/14/2014





i received every week email that help me understand many feature and also learn more about web compo...
Ejaz
soil36radio.com
10/23/2014





Thanks for providing high performance ASP.NET hosting for a fraction of what other hosts charge. Wh...
www.arvixe.com
04/23/2014





You are awesome...Actually i stopped looking for others after finding you...
Vibhor K
www.arvixe.com
05/18/2014