Testimonials from Real Arvixe Ghost Users:
Customer Testimonials
For Windows shared hosting please keep up the good work of improving server performances.
Goran
nichecove.com
09/06/2013





An excellent service, great prices and wonderful staff. Always able to help and provide advice - wou...
Mark
naughtyfivers.com
09/03/2013





Awesome service at a great price for those who want to learn Web Development!
Anthony
litterio.com
12/15/2013





Thank you for the quick turn around on customer service emails! When my site was hack...
Jeffrey
gunbarrelg...
06/15/2013





Arvixe has been great since I started hosting with you. I like the way you handle issues compared to...
JOSEPH
glitzplus.com
12/22/2013





Don't Take Our Word Our Ghost Hosting is the Best:

84%





4.75 / 5
Rated by 37 customers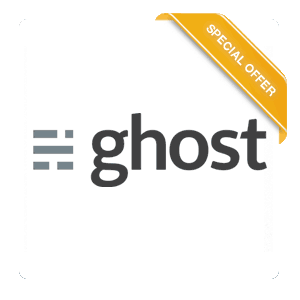 Ghost Hosting
Ghost is a blogging platform created to be the pinnacle in efficiency while having a high degree of customization. This makes it the perfect software to use for blogs of both personal and professional natures, which means that its use goes even further than those of many other archaic types of blogging platforms.
The most attractive feature of Ghost is that it includes a Ghost Developer Kit. This allows you and other people to create extensions of Ghost, which in turn allows for two Ghost blogs to look and feel as different as two individuals do.
At Arvixe, we work hard to ensure that our customers have the best hosting possible. That's why we've taken the time to tweak our Ghost hosting services so that they're reliable and efficient without missing out on the features that you need for Ghost.
Our Ghost web hosting services offer the following features:
Unlimited storage space for all your files, photos and images.
Unlimited bandwidth for all your hosting needs, which means that you no longer have to worry about running out of transfer space when your Ghost blog becomes popular.
A hosting service configured to work efficiently and reliably with Ghost right from the start.
Testimonials from Real Arvixe Ghost Users:
Customer Testimonials
You've given me great support thank you!
Walter
www.arvixe.com
08/23/2013





You are great, been with you for years, referred friends, keep going!
Sebastian
wolfbird.com
09/22/2014





Almost no interruptions to service over 2 years. Service is everything we could ask for with minimum...
Jonathan
xaxero.com
07/14/2013





I have tried several hosting companies in the past and none of them come close to Arvixe for quality...
Jaki
jmtgifts.co.uk
12/28/2014





Have been pleased with my service since 2009.
Brian
bikeandboots.com
09/26/2013