Testimonials from Real Arvixe Ghost Users:
Customer Testimonials
Arvixe is the best find for my hosting needs. Apart from its services, I am more than happy with the...
Malik
38dollarlogo.com
09/27/2014





One reason why i love arvixe is that, they help make my job as a web developer easy. They make every...
Prince
boundarybu...
11/18/2014





I have building and promoting websites for about 7 years and tried many different hosting services o...
David
pinworlds.com
11/19/2013





Since switching from my previous provider, I have been very pleased with Arvixe.
James
treelectronics.com
04/25/2014





I was very pleased to be a client of Arvixe. and strongly recommending Arvixe for all of my partner...
Kairat
weetbook.com
01/03/2014





Don't Take Our Word Our Ghost Hosting is the Best:

84%





4.75 / 5
Rated by 37 customers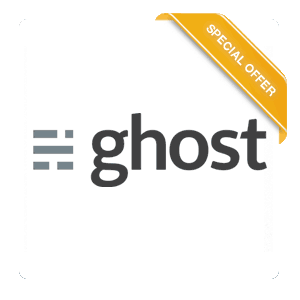 Ghost Hosting
Ghost is a blogging platform created to be the pinnacle in efficiency while having a high degree of customization. This makes it the perfect software to use for blogs of both personal and professional natures, which means that its use goes even further than those of many other archaic types of blogging platforms.
The most attractive feature of Ghost is that it includes a Ghost Developer Kit. This allows you and other people to create extensions of Ghost, which in turn allows for two Ghost blogs to look and feel as different as two individuals do.
At Arvixe, we work hard to ensure that our customers have the best hosting possible. That's why we've taken the time to tweak our Ghost hosting services so that they're reliable and efficient without missing out on the features that you need for Ghost.
Our Ghost web hosting services offer the following features:
Unlimited storage space for all your files, photos and images.
Unlimited bandwidth for all your hosting needs, which means that you no longer have to worry about running out of transfer space when your Ghost blog becomes popular.
A hosting service configured to work efficiently and reliably with Ghost right from the start.
Testimonials from Real Arvixe Ghost Users:
Customer Testimonials
ease of use is great, love that I can connect to sql server using dns entry and send email over smtp...
corey
nerdalate.com
05/28/2013





Solid hosting all around. I've enjoyed consistent service and excellent support from Arvixe for 5 ye...
Ben
benkrejci.com
09/25/2013





I am still using another hosting company, but wanted to try you with a new web site before moving my...
Gilles
carongc.com
10/23/2013





I'm using Microsoft Frontpage 2003 and Arvixe took care of my form issues quickly. I was impressed w...
John
www.arvixe.com
09/05/2013





Arvixe offers an excellent services and software and has a great customer service. I highly recommen...
Paolo
francyandpaul.com
08/27/2013