Testimonials from Real Arvixe Ghost Users:
Customer Testimonials
Thank you for your wide range hosting services!
Timur
www.arvixe.com
08/16/2013





I have never had any issue that are not resolved by the support guys. and i really mean it. I made t...
Yasir
www.arvixe.com
06/10/2013





Fast, friendly service - this is the only hosting company I want to use.
Faroouqe
ragefootball.com
08/08/2014





I have been with Arvixe for several years now and recommend it to anyone looking for optimal uptime ...
Tina
gloriousinsanity.net
10/25/2013





After testing with multiple Hosting, Arvixe provides us with a huge range in order to be able to pub...
Giovanni
masterdocu...
10/17/2013





Don't Take Our Word Our Ghost Hosting is the Best:

84%





4.75 / 5
Rated by 37 customers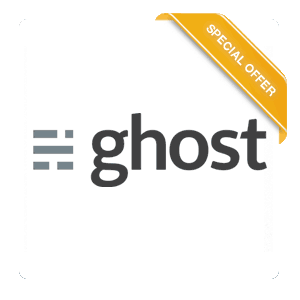 Ghost Hosting
Ghost is a blogging platform created to be the pinnacle in efficiency while having a high degree of customization. This makes it the perfect software to use for blogs of both personal and professional natures, which means that its use goes even further than those of many other archaic types of blogging platforms.
The most attractive feature of Ghost is that it includes a Ghost Developer Kit. This allows you and other people to create extensions of Ghost, which in turn allows for two Ghost blogs to look and feel as different as two individuals do.
At Arvixe, we work hard to ensure that our customers have the best hosting possible. That's why we've taken the time to tweak our Ghost hosting services so that they're reliable and efficient without missing out on the features that you need for Ghost.
Our Ghost web hosting services offer the following features:
Unlimited storage space for all your files, photos and images.
Unlimited bandwidth for all your hosting needs, which means that you no longer have to worry about running out of transfer space when your Ghost blog becomes popular.
A hosting service configured to work efficiently and reliably with Ghost right from the start.
Testimonials from Real Arvixe Ghost Users:
Customer Testimonials
Good job!
Firoz
firozjokhi.com
06/04/2013





I am hosting 3 sites (1 e-commerce, 1 high traffic, 1 pet project) on ARVIXE and I am pleased to rep...
IOANNIS
epaggelmaties.com
06/16/2013





Ever since I signed up with you guys I received royal customer service. I signed up as an affiliate...
Vladimir
valcorpnc.com
07/25/2014





Arvixe is a superb company and the service provided is excellent. The pricing is very competitive a...
Susan
renocustom...
08/15/2013





I've been with Arvixe now for quite a long time (several years), and your service has been flawless ...
Mike
singularit...
04/09/2014