Testimonials from Real Arvixe PrestaShop Users:
Customer Testimonials
You guys rock! I can't believe how little you charge for what you provide. Superior uptime too. I wi...
Gerald
e911systems.net
06/13/2013





Great, reliable service. Thanks!
Jeffrey
goalscoreg...
06/13/2013





Arvixe makes multiple-domain hosting a breeze for non-programmers!
Karlheinz
verlagshau...
06/22/2013





I'm recommending all my friends arviex for reliable, supportive, good web hosting service.
Kumaresan
counterbolt.com
05/20/2013





I really like Chat service on Arvixe, they always solve my problems right away.Regards,JP
Jose
alfamascotas.com
08/14/2013





Don't Take Our Word Our PrestaShop Hosting is the Best:

84%





4.75 / 5
Rated by 37 customers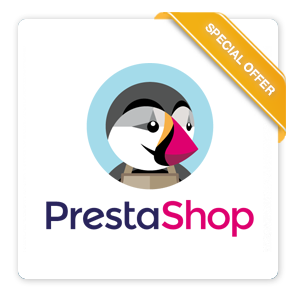 Prestashop

Web Hosting

Prestashop is a comprehensive system that allows virtually anyone the capacity to quickly setup an online store. Although the software is delivered with many tools and plugins for success, more add-ons are available for purchase to vastly increase the website's potential.

Our hosting services for Prestashop have been optimized for growth allowing you to post as many items as you wish without worry of consuming too much drive space. We have gone to great lengths to ensure that the eCommerce platform operates flawlessly on the system while providing efficient networking capabilities. You and your customers will appreciate the overall functionality of an optimized system for eCommerce.

Why is using Arvixe for your Prestashop installation ideal for your future success?
Monitored hosting for 24/7 support - Our support staff is available at all hours to meet your needs
Designed and developed for Prestashop eCommerce control - All of the settings, deployments and optimizations are done for maximizing your experience
Scaling hosting services - Never worry about running out of online space or an abundance of visitors
Safe and secure - Be confident that your customer and financial information is safe from the prying eyes of the Internet
Testimonials from Real Arvixe PrestaShop Users:
Customer Testimonials
The best value for money I've seen in the web hosting industry across the globe. Customer service is...
Nidhi
varunbhargava.com
01/16/2014





I have been a customer since a year, and am very pleased/satisfied with the services offered. Very r...
Ashutosh
ashutoshti...
01/09/2014





advice is just right what I need , large bandwidth, 99% availability, fast customer service, no com...
Bonfanti
distri-tech.com
12/13/2013





With Arvixe, web hosting became a breeze to me. I wish all service providers worked so well.
MARCELO
wikidevapps.com
01/29/2015





Arvixe is the best find for my hosting needs. Apart from its services, I am more than happy with the...
Malik
38dollarlogo.com
09/27/2014