Testimonials from Real Arvixe PrestaShop Users:
Customer Testimonials
I am still using another hosting company, but wanted to try you with a new web site before moving my...
Gilles
carongc.com
10/23/2013





I tried a couple of other hosting, but Arvixe was the best one I tested. Very functional and perfor...
Michael
reedme.us
03/31/2014





As a feeble minded newbie for the last 6 years, Arvixe has been kind enough to answer any questions ...
Wanda
iambewytched.com
06/14/2013





I've had a great experience with Arvixe so far. I've been using your services for about 3 years now ...
Francisco
neurosonora.com
10/14/2013





I use the personal class plan and really have no complaints. Support has been decent and quick, alth...
Jeff
3iffromwithin.info
05/06/2013





Don't Take Our Word Our PrestaShop Hosting is the Best:

84%





4.75 / 5
Rated by 37 customers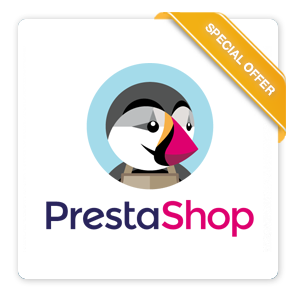 Prestashop

Web Hosting

Prestashop is a comprehensive system that allows virtually anyone the capacity to quickly setup an online store. Although the software is delivered with many tools and plugins for success, more add-ons are available for purchase to vastly increase the website's potential.

Our hosting services for Prestashop have been optimized for growth allowing you to post as many items as you wish without worry of consuming too much drive space. We have gone to great lengths to ensure that the eCommerce platform operates flawlessly on the system while providing efficient networking capabilities. You and your customers will appreciate the overall functionality of an optimized system for eCommerce.

Why is using Arvixe for your Prestashop installation ideal for your future success?
Monitored hosting for 24/7 support - Our support staff is available at all hours to meet your needs
Designed and developed for Prestashop eCommerce control - All of the settings, deployments and optimizations are done for maximizing your experience
Scaling hosting services - Never worry about running out of online space or an abundance of visitors
Safe and secure - Be confident that your customer and financial information is safe from the prying eyes of the Internet
Testimonials from Real Arvixe PrestaShop Users:
Customer Testimonials
First time experience with any hosting services and I'm very please with Arvixe.
Jean
jcdaviault.ca
07/05/2013





Got all my bases covered by having my own personal web designer. your letter to me, Arvand, made me ...
Jerry
papajsartgarage.com
07/03/2014





I really like Arvixe, not because of this opportunity (seriously), it's the fact that I haven't had ...
Jared
mdvinstitute.com
06/22/2013





i did a thorough research on what web host would best suit my needs and arvixe topped the list by mi...
japheth
conference...
05/29/2013





Arvixe provides exceptional value and quality for the price. I'm continually amazed at how much I g...
John
ihmcc.org
03/24/2014