Testimonials from Real Arvixe PrestaShop Users:
Customer Testimonials
Your team has been very quick to respond to any questions or service changes. You rock!
Justin
harshbarger.net
08/10/2013





Awesome service at a great price for those who want to learn Web Development!
Anthony
litterio.com
12/15/2013





You guys rock inside and out! Always reliable, always fast, always there to help.
Michael
hoffmanity.com
08/05/2013





I love the the performance of my sites and feel the software is always updated to give us new featur...
John
emmausroadsociety.org
05/15/2013





Thus far, I've had a completely enjoyable experience with Arvixe. My old hosting provider burned me...
Peter
calvindude.org
01/08/2014





Don't Take Our Word Our PrestaShop Hosting is the Best:

84%





4.75 / 5
Rated by 37 customers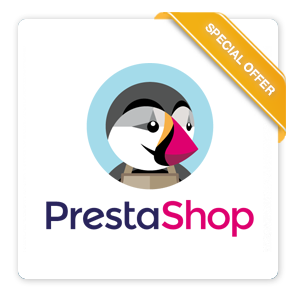 Prestashop

Web Hosting

Prestashop is a comprehensive system that allows virtually anyone the capacity to quickly setup an online store. Although the software is delivered with many tools and plugins for success, more add-ons are available for purchase to vastly increase the website's potential.

Our hosting services for Prestashop have been optimized for growth allowing you to post as many items as you wish without worry of consuming too much drive space. We have gone to great lengths to ensure that the eCommerce platform operates flawlessly on the system while providing efficient networking capabilities. You and your customers will appreciate the overall functionality of an optimized system for eCommerce.

Why is using Arvixe for your Prestashop installation ideal for your future success?
Monitored hosting for 24/7 support - Our support staff is available at all hours to meet your needs
Designed and developed for Prestashop eCommerce control - All of the settings, deployments and optimizations are done for maximizing your experience
Scaling hosting services - Never worry about running out of online space or an abundance of visitors
Safe and secure - Be confident that your customer and financial information is safe from the prying eyes of the Internet
Testimonials from Real Arvixe PrestaShop Users:
Customer Testimonials
Your services was very good thank you for all
ABRAHAM SINAI
todocontad...
03/09/2014





You guys are the best host I have ever come across. I recommend all my clients/friends to Arvixe.
Tomas
tccraft.net
01/22/2014





I am using the reseller package. It's been nearly 5 months and I must say, server response time, cus...
Monirus
hostingfs.com
03/04/2014





Hey Arvixe.. You are very important company in my life. I have built my first website on your servic...
MUHAMMED
muhammedkose.com
11/20/2013





Been with you guys for a while now and have no complaints at all. Tech support has been great. Keep ...
Patrick
precisions...
07/29/2013