Testimonials from Real Arvixe TYPO3 Users:
Customer Testimonials
Thanks, You guys are great, Had a very pleasant experience I was earlier with Godaddy. It was too co...
Ratnakar
getnetstats.com
09/27/2014





I am very happy with Arvixe. I had a few problems the first 6 month I was running my site on your se...
perry
starstudiomodels.com
01/09/2014





I am not sure who I would be host with if not Arvixe. I have what I need with Arvixe and haven't ne...
Brett
brettski.com
07/15/2013





The best server, the best support, the best all.
Daniel
guiadaserr...
07/24/2013





I joined Arvixe because of the pre-support I received, which made me realise that THIS is the compan...
Lori
2b4u8.com
06/10/2013





Don't Take Our Word Our TYPO3 Hosting is the Best:

84%





4.75 / 5
Rated by 37 customers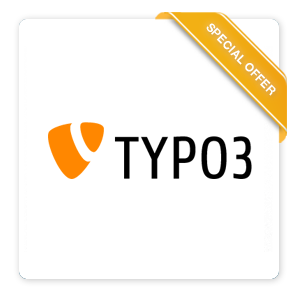 Typo3 Hosting
TYPO3 is one of the most widely used content management systems. Its open-source license, multilingual support, high regard for the security of information, extreme amount of customization and scalability are among the most noticeable features.
TYPO3 makes creating content for your visitors and designing an entire website from the ground up possible. When you finally need to go back ot publish more content, doing so is as easy as using a document processor.
The most crucial advantage TYPO3 gives you as a business is access to HTML5, which can be used to ensure that users using personals computers or mobile devices can access your website using any compliant browser.
Taking Your TYPO3 Hosting Further with Arvixe
When you choose to use TYPO3 as a content management system, you're choosing a promising piece of efficient software that's easy for customize and extend.
The problem is that not all TYPO3 hosts are created equal, which is why we've gone through the long process of trial and error to optimize TYPO3 for you.
When you start your TYPO3 hosting with Arvixe, you'll get a pre-optimized installation of TYPO3 automatically installed. This will allow your website to handle more users while encountering less errors.
Learn more about the many benefits that hosting your TYPO3 CMS with Arvixe has.
Testimonials from Real Arvixe TYPO3 Users:
Customer Testimonials
We have tried big hosting companies like GoDaddy.com, and their service was pathetic. Specially cust...
Zohaib
sana-traders.com
04/15/2014





the service that you provide is great, i have been around with many other service providers such as ...
birbal
www.arvixe.com
05/25/2013





Your customer support team is fantastic!!!
Kevin
www.arvixe.com
05/16/2013





Well, I joined Arvixe some years back, now having 2 accounts with them. I am in touch with several w...
Rakesh Kumar
muscle-dev...
08/10/2013





I was introduced by sister (www.sofess.com) who has been with you since 2009. We will upgrade our pl...
Sharifah Nur Farahin
www.arvixe.com
04/24/2013