Testimonials from Real Arvixe Zen Cart Users:
Customer Testimonials
Hosting is great, simple, and effective.
Bryant
www.arvixe.com
06/03/2013





Arvixe is the best hosting provider on the market right now with an excellent customer support.
Lenka
bioaorganic.com
09/14/2013





I've never had any issues that were not resolved quickly
Mason
modotrader.com
07/29/2013





I am very satisfied with arvixe hosting and i am very thankful to them .
bhuvanesh
agunasoftt...
06/20/2014





Great services and very reasonable prices, especially looking everything provided!
Kevin
aylavsmylife.com
10/24/2014





Don't Take Our Word Our Zen Cart Hosting is the Best:

84%





4.75 / 5
Rated by 37 customers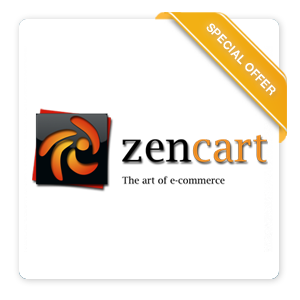 Zen Cart Hosting
Zen Cart provides businesses focused on eCommerce with unique advantages bundled into one simple yet elegant piece of software. It provides the functionality that you'd expect from an eCommerce platform while providing versatile options like Checkout Without an Account and newsletter subscriptions for registered users.
The flexibility of
Zen Cart
is further compounded by the high degree of customization and extendability provides by Zen Cart's base module and plugins.
These features will allow your business to progress further than it would with any other eCommerce solution.
Arvixe further supports your business by providing you with an automatic installation of Zen Cart that has been optimized to work with our services. You can then modify and tailor your Zen Cart installation to your liking using cPanel, the unlimited data storage, and the unlimited bandwidth that we provide.
Don't settle for a plain, generic web host that will ultimately drag your eCommerce business down with it. Take advantage of our powerful server hardware, customized server configuration, 99.9% guaranteed uptime and world-class support team to enrich your website with our Zen Cart hosting.
Learn more about why Arvixe should be your number one choice for Zen Cart hosting and the unique features that we bring to the table while answering any questions that you might have with our FAQ.
Testimonials from Real Arvixe Zen Cart Users:
Customer Testimonials
I have always been impressed by the tech team and customer assistance. They always go the extra mil...
Debra
www.arvixe.com
03/10/2014





I was a "first timer" when it came to starting up an e-commerce website. I did some shopping around...
Ross
badgerfly.com
04/29/2013





The customer service is the reason why I am comning back, anyone can provide a web host but not ever...
Tu
www.arvixe.com
06/15/2013





I really liked the experience with Arvixe. I like free unlimited sub-domains feature. I am renewing ...
maneesh
maneeshmoota.com
09/30/2013





Arvixe is one of the best. quick hosting, great control panel, great support and great price. highly...
Franc
coordinate...
10/16/2014