Testimonials from Real Arvixe Zen Cart Users:
Customer Testimonials
The support team is so fast and very kind for noobs like me.
Michael Edvard
tarikgan.o...
09/22/2014





I recently switched back to Arvixe from another registrant/ hoster and I can tell that your service ...
Luca
ahsubs.net
09/21/2014





Arvixe is great setup is really fast and the best part is that they accept most payment methods on t...
David
luapulaoils.com
09/21/2014





Arvixe is the best hosting. This is my first and never tried other because, I really like Arvixe! Th...
sagar
shoutloud.tv
09/20/2014





Best available shared hosting solution. Low prices and no downtimes combined with outstanding billin...
Andras
html5porn.net
09/19/2014





Don't Take Our Word Our Zen Cart Hosting is the Best:

84%





4.75 / 5
Rated by 37 customers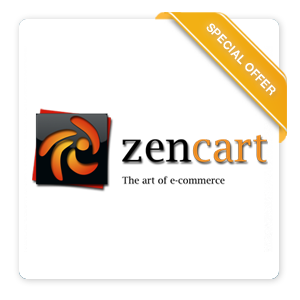 Zen Cart Hosting
Zen Cart provides businesses focused on eCommerce with unique advantages bundled into one simple yet elegant piece of software. It provides the functionality that you'd expect from an eCommerce platform while providing versatile options like Checkout Without an Account and newsletter subscriptions for registered users.
The flexibility of
Zen Cart
is further compounded by the high degree of customization and extendability provides by Zen Cart's base module and plugins.
These features will allow your business to progress further than it would with any other eCommerce solution.
Arvixe further supports your business by providing you with an automatic installation of Zen Cart that has been optimized to work with our services. You can then modify and tailor your Zen Cart installation to your liking using cPanel, the unlimited data storage, and the unlimited bandwidth that we provide.
Don't settle for a plain, generic web host that will ultimately drag your eCommerce business down with it. Take advantage of our powerful server hardware, customized server configuration, 99.9% guaranteed uptime and world-class support team to enrich your website with our Zen Cart hosting.
Learn more about why Arvixe should be your number one choice for Zen Cart hosting and the unique features that we bring to the table while answering any questions that you might have with our FAQ.
Testimonials from Real Arvixe Zen Cart Users:
Customer Testimonials
I've been with my previous host for years and moving has been an 'eye opener'. Since moving to Arvi...
Steve
stevedavenport.com
09/17/2014





I have been too busy to really explore some of the more advanced features of hosting, but I am very ...
Jeremy
palebluedot.ca
09/17/2014





I am a web designer and I have been with Arvixe for years and have had no issues what so ever. The t...
Tony
tonylambgr...
09/14/2014





Arvixe is straight up amazing. The prices are super low, even for the more comprehensive packages. I...
Loni
screwytruths.com
09/13/2014





Used other hosting services, but your group does an excellent job walking clients through each phase...
Michael
mlantz16.com
09/13/2014