Testimonials from Real Arvixe OpenCart Users:
Customer Testimonials
I had a lot of questions and problems when starting up my website since I'm not tech savvy at all. B...
Catalin
peacefuley...
07/02/2013





As a web developer I have hosted with multiple different hosting provider companies. I usually find ...
Adam
hirstconsu...
04/07/2014





I always recommend Arvixe to customers and friends looking for ASP.NET hosting. I've been a customer...
Robert
kapitar.com
08/26/2013





Haven't been with you long but think you guys are the best out there. I really appreciate your supe...
Patrick
patrek.com
05/28/2014





Arvixe's service has been reliable and reasonably priced. The INITIAL set up for our site was compl...
William
woodstreamhoa.com
06/30/2014





Don't Take Our Word Our OpenCart Hosting is the Best:

84%





4.75 / 5
Rated by 37 customers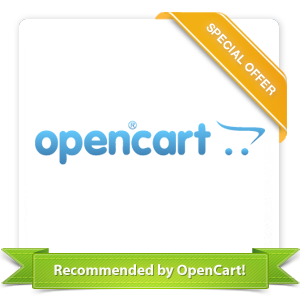 OpenCart Hosting
Businesses all around the world are making use of OpenCart to enable all their eCommerce transactions. It's a highly customizable open-source PHP shopping cart that comes with a number of useful out-of-the-box features, a strong online community willing to help one another, and a structure that promotes the easy development of extensions, plugins and templates.
Furthermore, OpenCart uses the MVC (Model View Controller) model, which means that fewer problems will be encountered when you modify it. Any customization that you do to OpenCart will also be more readily approachable by any new developers you might hire.
At Arvixe, we provide one of the best hosting environments available for you to use OpenCart with. Our OpenCart hosting gives you an installation of OpenCart that's been optimized to work efficiently with our servers, which means that you'll be able to push that much more traffic to your business and to miss fewer sales due to technical difficulties.
Couple this with our award-winning support, and you'll soon find that Arvixe's OpenCart hosting fulfills all that your business needs to flourish.
Learn more about why our OpenCart web hosting is preferred by businesses. When you're convinced that we have everything you need, you can order our hosting service to have your OpenCart website up and ready to customize within minutes.
Testimonials from Real Arvixe OpenCart Users:
Customer Testimonials
I live in Hungary, I am a poet. I was hosting my websites on a Hungarian company's platform. Once I ...
Zoltan
versantologia.net
10/24/2013





Excellent tech support and very good prices
Teresa
simapromx.com
11/25/2014





Great support, really great service! Wonderful support at any hour!
Valerio
valeriobontempi.it
01/07/2015





Love Arvixe.
Troy
biblocality.com
07/23/2013





Before purchasing hosting plan I searched a lot I found arvixe is offering the best competitive pric...
MD
shiefuzzaman.com
05/01/2014