Testimonials from Real Arvixe OpenCart Users:
Customer Testimonials
Arvixe has been a great value for the money since I brought my websites over in 2010. They keep up w...
Dmytro
www.arvixe.com
09/09/2013





Arvixe provides a stable hosting environment and great customer service with quick responding techni...
Bowie
aminoshower.com
03/29/2014





Arvixe provides to clients best value ASP.Net VPS service that I ever met.
Nikolay
bizgeosell.com
06/23/2014





We're from Europe and have recommended Arvixe to many. It's not easy to find quality hosting provide...
Raphael
nolens.net
04/30/2013





Arvixe is the best hosting provider on the market right now with an excellent customer support.
Lenka
bioaorganic.com
09/14/2013





Don't Take Our Word Our OpenCart Hosting is the Best:

84%





4.75 / 5
Rated by 37 customers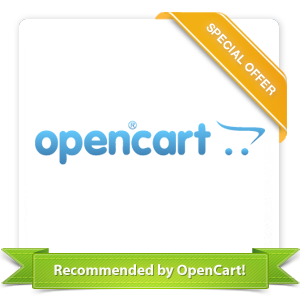 OpenCart Hosting
Businesses all around the world are making use of OpenCart to enable all their eCommerce transactions. It's a highly customizable open-source PHP shopping cart that comes with a number of useful out-of-the-box features, a strong online community willing to help one another, and a structure that promotes the easy development of extensions, plugins and templates.
Furthermore, OpenCart uses the MVC (Model View Controller) model, which means that fewer problems will be encountered when you modify it. Any customization that you do to OpenCart will also be more readily approachable by any new developers you might hire.
At Arvixe, we provide one of the best hosting environments available for you to use OpenCart with. Our OpenCart hosting gives you an installation of OpenCart that's been optimized to work efficiently with our servers, which means that you'll be able to push that much more traffic to your business and to miss fewer sales due to technical difficulties.
Couple this with our award-winning support, and you'll soon find that Arvixe's OpenCart hosting fulfills all that your business needs to flourish.
Learn more about why our OpenCart web hosting is preferred by businesses. When you're convinced that we have everything you need, you can order our hosting service to have your OpenCart website up and ready to customize within minutes.
Testimonials from Real Arvixe OpenCart Users:
Customer Testimonials
For Windows shared hosting please keep up the good work of improving server performances.
Goran
nichecove.com
09/06/2013





We enjoy the services offered by Arvixe. Customer support is stellar and fulfilling. We are happy ...
IT
pa-copos.org
11/22/2013





I would recommend Arvixe to anybody looking for hosting solutions, i have tried a few different host...
Direct Mag
directmagm...
10/15/2013





You offer the perfect combination of low prices, lost of storage and bandwidth, all sorts of site so...
Oscar
baghuis.com
07/01/2013





I just want to thank you all for the great service!
Diego
diegostrobelt.com
08/13/2013